THE MOVE, being an ongoing summary of the progress of Jennifer and Bruce's move to Portland, Oregon
(Don't expect a whole lot on this page. These are just highlights.)
---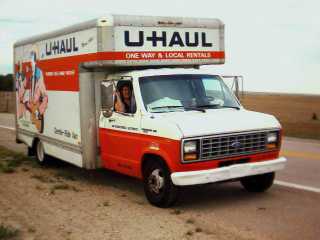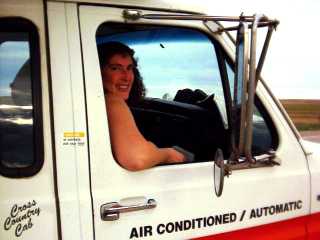 ---
August 31 - Finished packing. Waited all day for a 17' U-Haul truck that never arrived. Serves us right for choosing Boston's busiest moving weekend of the year. (Thanks to Karin, Amanda and Margaret for being willing to help.)

September 1 - Truck arrives in late afternoon. Packing commences at 5pm and continues until after midnight. (Thanks to Debbie and Jenn for helping us move, keeping us hydrated and otherwise "meeting our primary needs".)
September 2 - Boston > Newark, New York (east of Rochester) - Drove by the International Boxing Hall of Fame in Oneida. Being Labor Day Weekend AND with the State Fair going on in Syracuse, we spent four hours finding and getting to a place to spend the night.
September 3 - Newark > Milan, OH (near Sandusky, between Cleveland and Toledo) - Billboard in Cleveland: "What part of 'Thou shalt not' didn't you understand? - God".
September 4 - Milan > Ottawa, IL (west of Chicago) - Labor Day and the U-Haul Truck breaks down! Just over the Ohio border in Fremont, Indiana, the vacuum pump in the brake system failed, making braking very iffy. After two hours in a scary truck stop and an hour at a repair shop, we were back on the road. Thank goodness we didn't have to transfer to another truck and move all those boxes again!
September 5 - Ottawa > Gretna, NE (between Omaha and Lincoln) - The U-Haul truck breaks down again, this time in Annawan, Illinois! Same problem as the day before, except this time a part needs replacement that usually requires a week to order. Miraculously, the part is in stock and we're back on the road within two hours. Very pretty rolling hills in Iowa. Drove by Ronald Reagan and Herbert Hoover museums, the Wrestling Institute and Museum near Des Moines and the Strategic Air Command Museum near Omaha.
September 6 - Gretna > Cheyenne, WY - No breakdowns today! We're over halfway there and have officially entered the West! Learned that Route 80 follows the original Oregon Trail, used by many pioneers - rather appropriate route for us, we think. Amazing clouds and "God light" as we entered Wyoming - we felt like we were being welcomed by the West.




September 7 - Cheyenne > Ogden, UT - Thoroughly enjoyed Wyoming's sagebrush-dotted landscape, replete with antelope.
September 8 - Ogden > Pendleton, OR - We're in (eastern) Oregon! One more day to Portland! Not impressed with Idaho - most expensive diesel fuel so far and we had to pay first. Savored the beautiful mountains in eastern Oregon as the steep grades forced us to crawl along at 35mph. The mountains and valleys are so beautiful, in fact, that for a few brief minutes we entertained thoughts of setting here. (We'd be close to Jennifer's relatives.) :-)
September 9 - Pendleton > Portland - WE MADE IT! Parked directly in front of our friend Dorinda's apartment, napped, watched Dorinda in a dance performance, then went to a cast party at which we met the core of the Portland modern dance community. We're tired, but excited and happy to be here!
September 10 - Portland - We hadn't intended to do this until after our round-the-US trip, but we've applied for an apartment here in Portland. It's charming, large, has hardwood floors and a WORKING FIREPLACE, is close to downtown and services, and...it's in Dorinda's building!
September 11 - Portland - Spent the day unloading the U-Haul truck. Although we haven't received the final approval, the manager of Dorinda's building is assuming we'll check out OK and gave us permission to move our stuff into the apartment we've applied for. More sore muscles, but it feels great to be rid of the truck and (almost) have an apartment.
September 12-15 - Doin' stuff around Portland. We love it. People are so nice here!
September 16 - It's official! We have a home in Portland - signed the lease today. We're free to launch out on our round-the-US trip without worrying about where we'll stay when we get back.
Next step: THE TRIP
---
Back to the JandB.net home page...
---